When:
May 25, 2022 @ 2:00 pm – 8:00 pm
2022-05-25T14:00:00-06:00
2022-05-25T20:00:00-06:00
Where:
Hensler Auditorium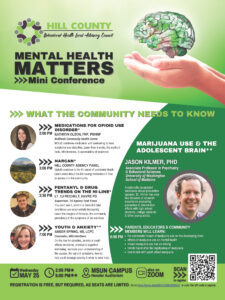 2:00pm: MEDICATIONS FOR OPIOD USE DISORDER, Kathryn Olson, FNP, PMHNP; Bullhook Community Health Center. – MOUD combines medication and counseling to treat substance use disorders. Learn how it works, the myths & facts, effectiveness, & accessibility of treatment.
3:00pm: NARCAN, will feature a panel of professionals in Hill County administering Narcan. – Opioid overdose is the #1 cause of accidental death. Learn more about this life saving medication & how to access it in the community.
3:30pm: FENTANYL & DRUG TRENDS ON THE HI-LINE, Lt. CJ Reichelt; Supervisor, Tri Agency Task Force. – You can't see it, smell it or taste it & fatal overdoses are exponentially increasing. Learn the dangers of fentanyl, the community prevalence & the symptoms of an overdose.
6:00pm: MARIJUANA USE & THE ADOLESCENT BRAIN, Jason Kilmer, PhD; Associate Professor in Psychiatry & Behavioral Sciences, University of Washington, School of Medicine. – Dr. Kilmer will discuss the substantial impact of marijuana use on the developing brain, the effects of marijuana use on mental health, the impact marijuana use has on driving, trends that have been found in states like Washington after the legalization of marijuana and how to talk with youth about marijuana. Dr. Kilmer is a nationally recognized substance abuse prevention speaker, the Hill County Substance Abuse and Misuse Coalition invited him to present in the February of 2020; participants are still sharing information from his engaging talk. He has over two decades of research experience evaluating prevention & intervention efforts with high school students, college students & other young adults.
7:00pm: YOUTH & ANXIETY, Amber Spring, MS, LCPC; Counselor, Montana State University-Northern. – On the rise for decades, anxiety in youth affects emotional, physical & cognitive well-being. Increase your understanding of the causes, the signs & symptoms, how to help youth manage anxiety & when to seek help. In-person attendees will receive take-home materials for supporting and helping youth better self-manage their anxiety symptoms.
Mental Health Matters Mini Conference